Unknown
[[File:

|px|]]

Some attributes

First
Unknown
Second
Unknown
Third
Unknown

Other attributes
Mika Mihama( 神浜 美香 Mihama Mika?) she is 14-year-old girl who lives alone with his father. behind the actual adult personality she was lonely. She can only show his true feeling to Naoto Suzukawa. Her Rival in Soleil is Ichigo Hoshimiya. Mika is a ethnic type and her favorite brand is IRIS☆Monogatari. Her mother is actually a owner of popular Fashion Brand named Dear Crown. When use Dear Crown she is become Star Type.
Personality
Mika is calm, elegant, and confident. She is 4th idol that know Mizuki is now working at Dream Academy. she has a crush with Naoto Suzukawa, it is proven because she was always embarrassed when being around Naoto.
Appearance
Mika has light pink eyes with long, straight black hair in a hime cut. Her hair is held in two pig-tails tied with pink ribbons. She is most often seen wearing a pink and black long sleeved dress with dark pink stockings and black boots.
History
As a model at Dear Crown and Edel Rose
Her mother is the owner of popular fashion brand "Dear Crown". She known as Queen Of Crown, she is also a prism mate at Edel Rose, she is the youngest prism mate at Edel Rose.
She also command Edel Rose same as Ko Noriduki do. She is a childhood friend of Hiro Hayami.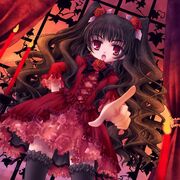 Unlike her brother, she is more bold and confident.
Get An Car accident
She and her father goes to somewhere with Gen Suzuno, Ito's father. while Kouji at home with her mother.
car that brought Gen Suzuno lost control and crashed into an electrical pliers. Gen got out of the car and left Mika and her father Takeyuki. the car was exploded. Genes thought they were both dead, but his body was not found when executed in the car.
Role In The Plot
A New Live as an idol
When 14 years old girl she join Starlight Academy. She is 2nd year student, and she is join a same class with Sakura Kitaoji.
Etymology
Mika (美香?) meaning is beautiful sences.
The name "Mihama" could be roughly translated as "The Beach" - emphasis on "The". 「神」, the first kanji in the name, means god and 「浜」 means beach.
then conjecture that "Mihama" means "beach of God".