Cotton Sweet Coord is Hotaru Hakoniwa's My MuSe Coord
Cotton Sweet Coord

| | |
| --- | --- |
| Type | Pop |
| Brand | Happy Rainbow |
| Rarity | Campaign Rare |
Descriptions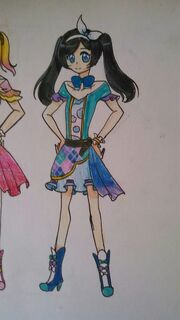 Cotton Sweet Tops
A teal low v neck top. The sleeves go over the shoulder, and have purple ruffles off the end. The middle section of the top has a soft blue-pink gradient, with little blue 'clouds'. The top comes with a deep blue neckbow with white trim, and a white and gold wrist cuff.
Cotton Sweet Skirt
A bubble style skirt. The top section of the skirt is a teal, purple, pink, blue, white plaid, seperated from the rest of the skirt by gold edging. The bottom section is a light blue. The ruffles on the skirt have a purple bows. The skirt comes with a brown belt that has ablue-purple gradient sash connected to it.
Cotton Sweet Boots
Blue cowboy boots with a white tongue. The boots have blue, purple, and white bows
Sweet Ribbon B
A white head band with a bow on the top right.